The saying that when America catches a cold, Black folks catch pneumonia is ever so true with the climate crisis. The storms, heat, and extreme weather fluctuations aren't one-time disasters and catastrophes that randomly to hit and destroy our most vulnerable communities. They follow this pattern because we've ignored investments in these communities that would otherwise strengthen their climate resilience and save lives.
A Simple Ponytail Hack For The Summer While The Silk Press Is On Pause
Last Wednesday night, an unprecedented storm system tore through the western and central United States generating at least 11 tornadoes including six in Colorado, three in Texas, one in Wyoming and one in Nebraska.
One of those tornadoes hit the small Texas town of Matador, population 571, where it combined with hurricane-force winds and hail the size of softballs to devastate the small community with untold damage, at least nine injured and four dead.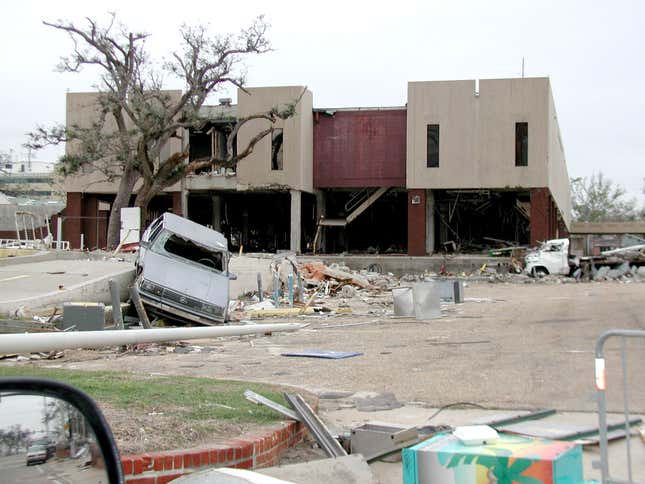 Of course, this is only the latest such disaster.
Let's talk about how, less than a week earlier, another deadly tornado wrecked Texas Panhandle city of Perryton injuring dozens of people and killing at least three. Let's talk about nearly 500,000 homes and businesses without power in Texas and Oklahoma after Wednesday's storms and more than 160,000 still waiting in the middle of a heat wave across East Texas and Louisiana days after severe storms hit the area on June 18.
Let's talk about another tornado in Baker County, Georgia, 15 inches of rain and flash flooding in Pensacola, Florida, 82 mph wind gust near Meridian, Mississippi, hail measuring five inches in diameter in Noxubee County, Mississippi and that's just last week.
We're just a couple weeks into hurricane season and all we have to do is turn on the television to see the climate crisis in action live and in living color.
Now add that to the painful memories of Superstorm Sandy causing billions of dollars in damage to communities still waiting for someone to make them whole. Let's talk about dams still washed away after the thousand-year flood that hit South Carolina in 2015.
Let's talk about Hurricane Ian, Hurricane Harvey, Hurricane Irma and Hurricane Maria, wildfires sweeping across the Southwest, family homes burnt down and washed away with communities too poor to rebuild.
You see, while there's no denying that the climate crisis is real, for folks who look like me, the black and brown Americans bearing the brunt of rising sea levels and stronger, more frequent storms, it's a climate catastrophe.
You see, while we know that increased flooding will cost the United States $40 billion annually by 2050 (a 26-percent increase from today), we also know that Black communities will be the worst hit and the least able to recover.
We know that Black folks are 40 percent more likely to live in "heat islands" where the threat of heat death is the highest, that that low-income and minority families are 50 percent more likely to live near busy roads and highways where the air quality is the worst and that more than half of Black Americans live in the South where more frequent and stronger storms, like Hurricane Ida, leave our communities in ruins.

 Multiple studies of heat, extreme cold, hurricanes, flooding, and wildfires find evidence black and brown communities are at higher risk of climate-related health impacts than Whites. Studies have found that racial disparities related to climate change are linked to higher mortality, respiratory and cardiovascular disease, mental health, and heat-related illness in our communities. Once the storms and destructions clear in any of the communities I've mentioned above, the work of recovery begins. However, studies have shown that the road to recovery is much tougher for Black and brown communities. For example, a study found that black people had higher risk for cardiovascular disease associated with PTSD symptoms following Hurricane Katrina compared to Whites.
We know that our lives are on the line and that "Green" issues are Black issues too.
That's why, from supporting major environmental justice programs like Dream Corps' Green For All to investing $15 billion to replace lead water lines in black and brown communities across America, President Biden's commitment to protecting our environment and stemming the climate crisis tide isn't just important. It's critical.
The truth is that President Biden's Inflation Reduction Act alone stands as the most significant climate legislation in American history.
Investing a record $369 billion to fight the climate crisis, it creates groundbreaking new programs and incentives that not only helps us cut pollution in half, but creates an exciting new climate economy that will create new jobs and careers for generations to come.
It creates new environmental justice tax credits so communities like ours can lead the renewable energy revolution in solar and wind. It provides new savings and rebates so we can weatherize our homes while lowering our energy costs and carbon footprints at the same time. It prioritizes coastal resilience and climate adaptation so are communities are more resilient in the face of more dangerous storms and sets us on a path that will cut the social costs of climate change, the pain our communities feel hardest of all, by up to $1.9 trillion.
To me, that is a welcome bit of sunshine after the storm. It's proof positive that, when the NAACP declared that "Environmental and climate justice is a civil rights issue," President Biden wasn't just listening. He took action.
That's not politics. It's leadership. And it's an opportunity we intend to grab and hold on to with both hands.
Antjuan Seawright is a Deomocratic strategist based in DC.